← Back to Articles
5 Top Problems with Community Gates and How to Avoid Them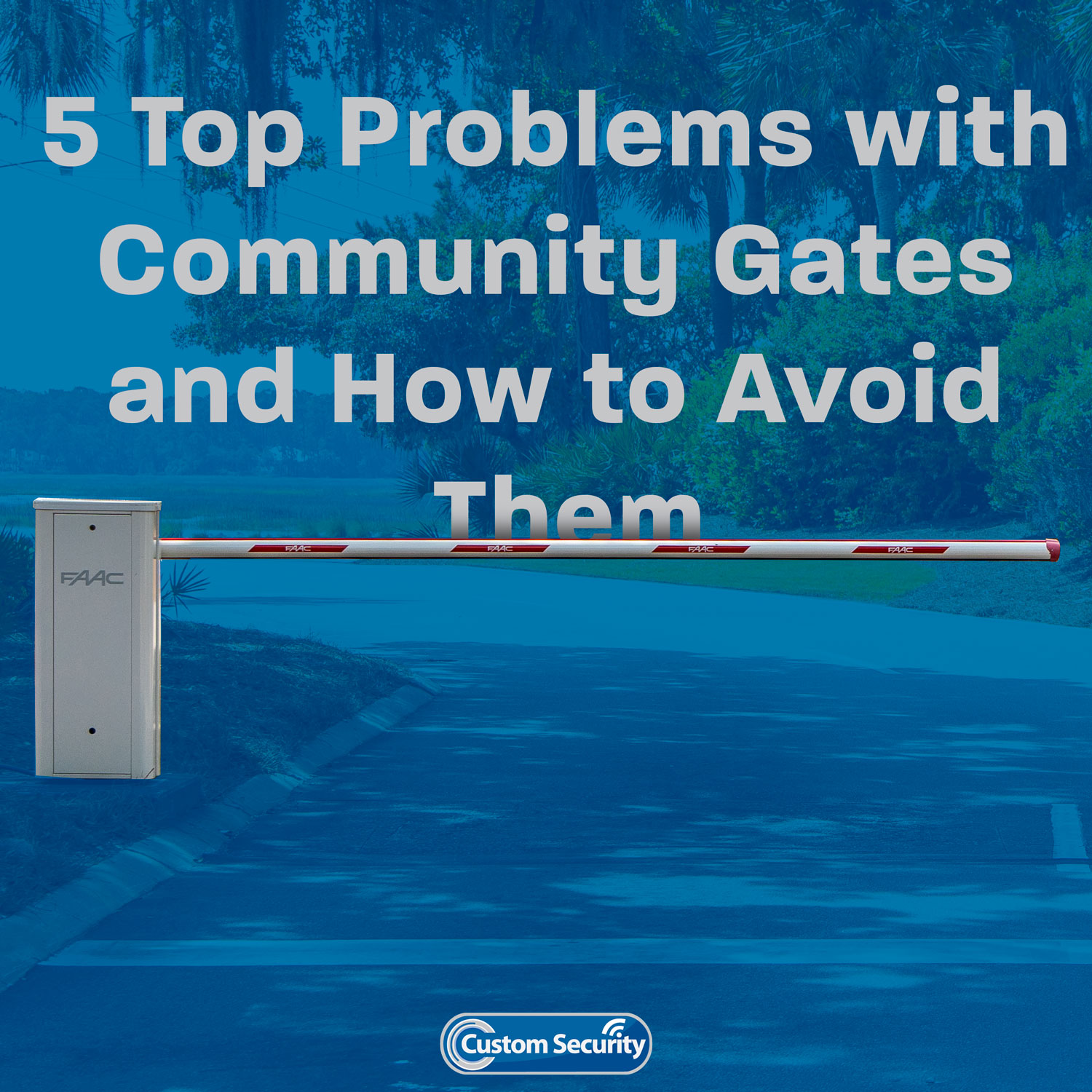 Community gates are a great tool for controlling traffic and providing a safer community, however as with any high traffic system, gates can come with issues. Over the years, Custom Security has experienced these issues and have developed solutions to help avoid them.
Collisions
There are many precautions Custom Security uses to avoid an accidental collision with the gate by residents, but incidents still occur, so it is important that the community have a company who can respond quickly when this happens. Custom Security is available 24/7. We normally respond to a service call the same day or the next day depending on the level of need, but in an emergency situation can drop what we are doing to respond. As part of our design we may install bollards to protect the gate equipment from being hit accidentally. Using the appropriate hinges and breakaway arms is also a key design needed to protect the gate from further damage when hit. Cameras with license plate capture help identify who damaged the gate so that damages can be billed to the culprit and not the Association.
Lost keys and/or codes
Who hasn't lost a key or forgotten a code? This can also be a nightmare for property managers to manage if not done correctly. Custom Security recommends having backups by distributing multiple cards or clickers to each household. Owners can also use the telephone directory when they misplaced keys to call home or a neighbor when their keys are lost. We also recommend that the property manager choose a code that has significance to the owner; by incorporating address, lot number, or telephone number, the resident is likely to remember the code.
Power outages
When the power goes out, how do you open the gate for residence trying to get home?!? Custom Security incorporates an back up power supply on every gate we install so that the gate is opened and stays opened until power is restored. We also recommend the community have a person on site that is trained on how to open the gate in the event of an emergency.
Tailgating
Because of the above fail safes on some gates it is easy to tail gate, follow another car, into the community without being a resident. Custom Security has a way of detecting this! With a camera system in place, we can email the property manager the license plate tag on each event automatically. Or a barrier arm gate (that drops closed faster) can be installed to deter people from tailgating.
Emergency response vehicles entering community
When EMS, Fire Department, or Police need access to the community it is important that it is done as quickly as possible. Custom Security brought the "Click to Enter" system to the local fire department and it was instrumental in it becoming a requirement for Beaufort County. With this system an emergency response vehicle simply clicks their radio and the gate opens! But like any emergency system, it is important to have backups! The fire department also has a key to a lock box that opens the gate from the face of the kiosk. In addition, there is also a code in every community that emergency response can use to open the gate.
Claims that the Gate hit their car!
There are so many backups in place that it is nearly impossible for a gate to hit a car. We have redundant systems in place so that this does not happen. Beams and loops detect a vehicle in its path so that if a car, or person, is in the way, the gate will open or stop from closing. We have seen where a person will drive 60 miles per hour trying to "beat" the gate from closing. This is never a good idea and is another great reason for a camera system!!
We know, we added an extra tip in there. You can return the favor and let us know how we can better serve you!
---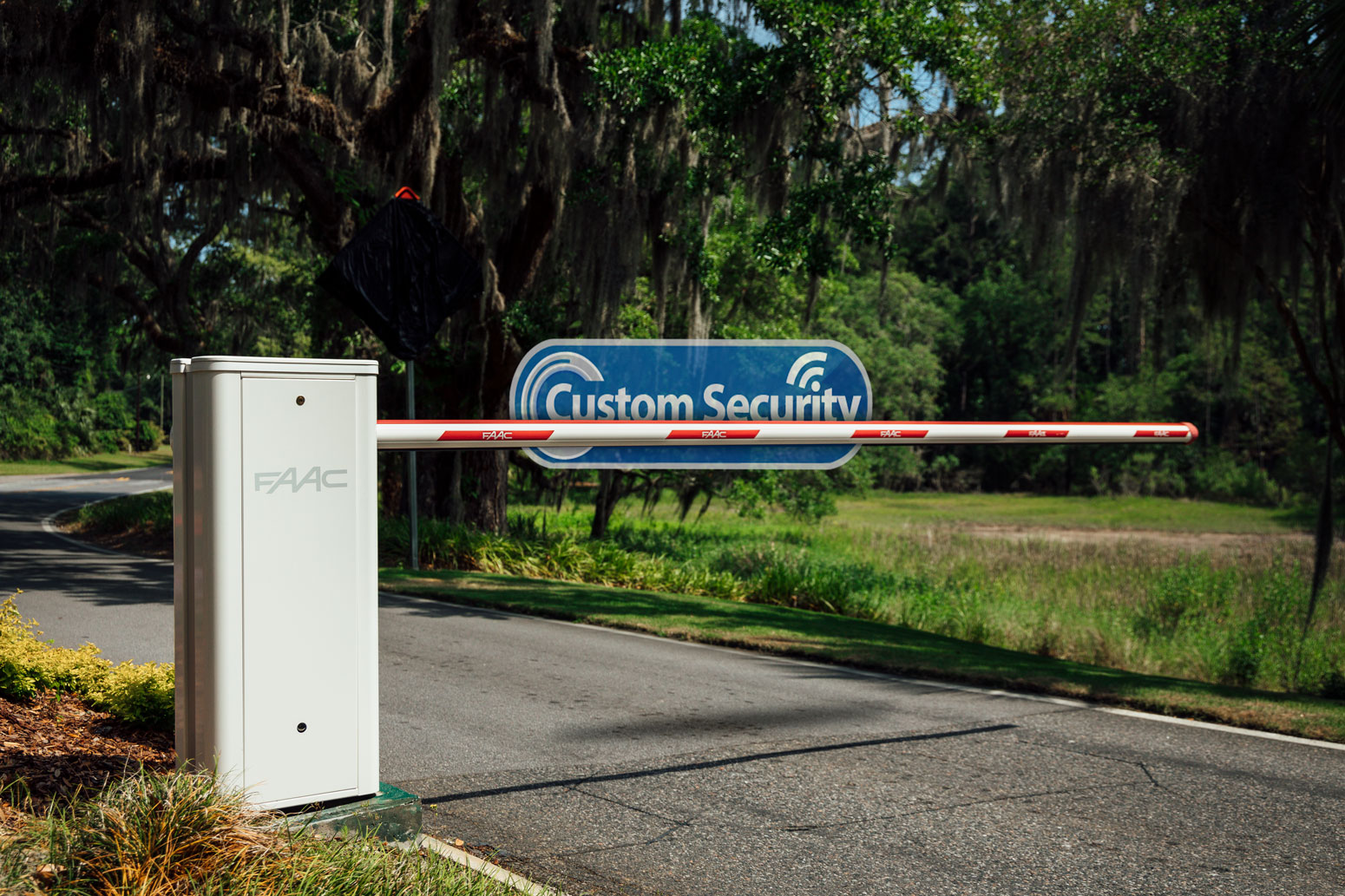 Custom Security is your local Gate Expert!
Contact us today for a free, no-obligation assessment and consultation!
---