← Back to Articles
7 Things You Didn't Know About Your Security System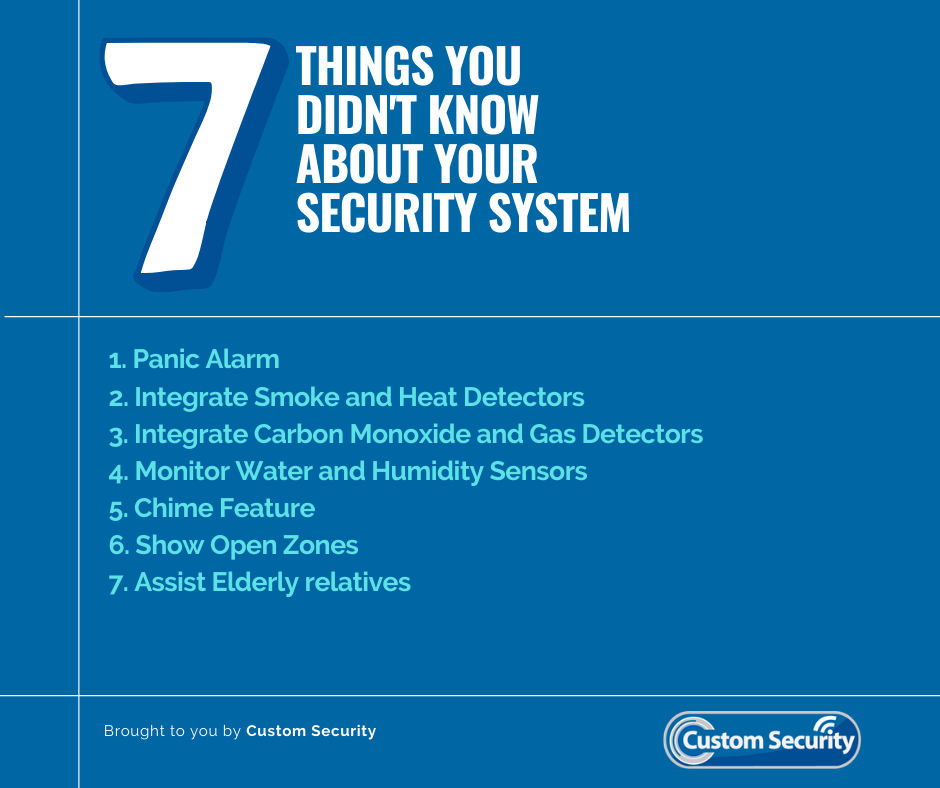 "If I am not arming my security system, it is useless, and I don't need to have one." Over 27% of all residential break ins occur when people are at home! Intruders are much bolder that when I started in this business 40 plus years ago. Back then the intruder was either drunk or delusional. Today, not arming your security system is risky. But what else can your security system do for you? We have compiled a list of 7 lifesaving benefits your security system provides.
1. Panic Alarm Burglaries while someone is home is not a situation that anyone wants to experience, but it certainly does happen. Alarms.org has reported that 27.6% of the time, a person is home while the burglary is occurring. If you have a security system, almost all systems provide you a way to activate an alarm with panic button, that will alert the police department to dispatch an officer. By doing this, most intruders flee the premise.
2. Integrated Smoke and Heat Protection Building codes now require that Smoke Detectors be placed throughout new homes in order to wake sleeping occupants in time to escape a fire. But what happens if nobody is home? Monitored smoke detectors alert the Fire Department to a potential fire. Connected to the alarm system's central battery backup, there are no nuisance batteries that need to be changed once a year. Monitored photoelectric smoke detectors look for a 2% visible concentration of smoke in the air avoiding false alarms that battery or electrician installed smoke detectors may cause. Smoke detectors are for life safety but are not installed where fires normally start. In areas such as a garage, attic, kitchen, or the utility room, fire is a higher risk but not a suitable environment for a smoke detection. In these locations Heat Detectors can be installed to alarm if the temperature in an area becomes excessive or if they sense that the temperature is rising rapidly. In many cases, residents get earlier notification because the smoke has not made its way the smoke detectors.
3. Integrate Carbon Monoxide and Gas Detectors Called the "silent killer", Carbon Monoxide is an odorless, colorless gas that has only recently been recognized for the lethal hazard it represents in most homes. Placed in areas where a burning fuel may more likely ignite, Carbon Monoxide Detectors, like smoke detectors, can save your life when you are most vulnerable; at night. Available for almost any specific gas, including Natural or Propane Gas, these detectors are usually placed in enclosed areas that house major gas appliances such as furnaces, dryers and water heaters to detect leaks. While the odor of leaking gas may alert the homeowner to its presence, dangerous amounts may build up, forming an explosion hazard while the owner is asleep or away.
4. Monitor Water and Humidity Sensors Custom Security Specialists has saved more houses from water damage than burglar & fire combined. Hot water heater and HVAC drainage pipes frequently clog due to the growth of algae, causing water damage. Water sensors are placed on these drip pans to alert you when the water level is too high. Humidity alert sensors provide protection from mold and mildew damage which often occurs when your air conditioning malfunctions. For example, 85-degree indoor temperature for a period of three days will accelerate the growth of harmful mold and mildew.
5. Chime Feature The chime feature on the security system can be used even if you never arm your security system (but we hope you will!). The chime feature on your security system will produce an audible chime from your keypad to alert you if a door or window has been opened. The peace of mind in knowing you are in the home alone is priceless. If you have children or elderly parents in the home, this feature could be a life saver in knowing if they have left the house. With the number of Amber and Silver alerts on the rise, Custom Security would love to help you in protecting your family to even the smallest of ways.
6. Shows Open Zones If you have an open door or window during a rain story you will know if all exterior doors and windows are closed. One simple feature of your security system can assist you with knowing. All door and window contacts (or zones) report back to the main brain of your security system and will display on the keypad if it is open. This is important because if you are going to arm your system, all door and window contacts need to be closed in order to do so. By doing a quick check of your keypad, you can quickly deduce if you're are all closed up for the night or that afternoon storm is about to start.
7. Assist Elderly Relatives Having elderly relatives living by themselves can be a hard decision to make. Are they okay? Have they been eating? Are they taking their medicine? These are just a few of the questions that will go through your mind when making this decision. While life alert systems are the norm, what else can you do to make sure they are taking care of themselves? One way we have seen is to install a contact on the medicine cabinet. We can coordinate with our monitoring station to call and check on the individual to see if everything is okay if they have not opened the medicine cabinet by a certain time. If no answer, they can then dispatch for a wellness check to make sure your loved one is okay. Contact us for more ways that we can assist your loved ones! If you have conditions or special medications, the EMT can be notified prior to arriving at the home. If you travel across the USA and medical emergency button is available which will also retort your location to the emergence personnel.
While these 7 things are considered basic features of most security systems, this is to help you think about how your security system can keep you safe. We are always available to do a free consultation to assess your needs and provide you with the very best protection for your needs. Call today at 843-342-9899 to ensure you are using your system to the BEST of its abilities!
About Custom Security

Since 1981, Bob All, with the combined expertise from our team of experts with over 100 years in residential, commercial, and industrial security, provides you with the very best in electronic security solutions available through Custom Security Specialists, Inc.
Custom Security installs home security systems and commercial security systems in Bluffton, Beaufort, Hilton Head, and surrounding areas in the Lowcountry.
To fully understand the culture that has grown and now embodies every team member of Custom Security, we invite you to read Bob's book Culture at Work. Download your free copy today!
---